Upcoming Events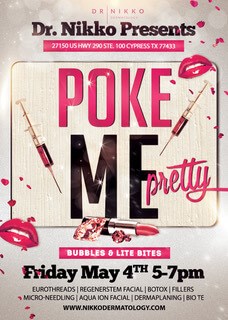 Friday May 4th - From 5-7PM at Nikko Dermatology
Join us with Dr. Nikko and many special guests at Nikko Dermatology in Cypress for Live Demonstrations of our latest Facials/Procedure and our most luxurious PRP Stem Cell Platinum Facial called the RegenerStem Facial + Botox + Fillers + EuroThreads and much more
The event will include complimentary consultations with Dr. Nikko & our specialists. This is a learning event so bring a friend or two and enjoy getting to see first hand how your skin can benefit from our newest and most popular procedures. The event is on Friday May 4th from 5PM - 7PM
We will have lite bites & some bubbly
There will be exclusive pricing and packages for event attendees.
Plus check in incentives!
Call or Email us to book your spot!
Space is limited so get your name and a friends on our guest list.
Come and learn and see for yourself! This is a free event so bring anyone you'd like to share the experience with!
Contact Us